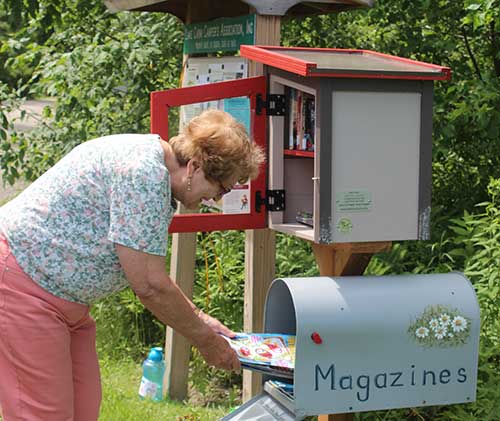 The following are Volunteer Opportunities available anytime, no permission needed:

Cleaning the beaches anytime, including raking and removing debris

Checking out the Little Library on Patton Shore, remove old magazines and books that don't need to be there. All can be recycled. (Photo attached of Little Library)

Helping with road maintenance, filling potholes.

The Newsletter editor is always looking for help, writing articles, good clear photographs, and captions.

Help with various committees: Celebrate Lake Carmi, including selling Pontoon Boat Race raffle tickets, helping the day of the races and fireworks.

Work with the dues committee to collect dues and camper information.

Keep bulletin boards clean and organized. When passing buy, remove out-of-date notices and signs that don't concern activities at the Lake. Weed whacking around the bulletin boards.

Weed whacking the roadsides near your cottage and at the corners leaving your road, so we can see cars coming.

Distribute Newsletters on your road, take turns.

Green Up Day is the first Saturday of May, large green-up bags are available at the Town Clerk's office.

Help with the August Triathlon.